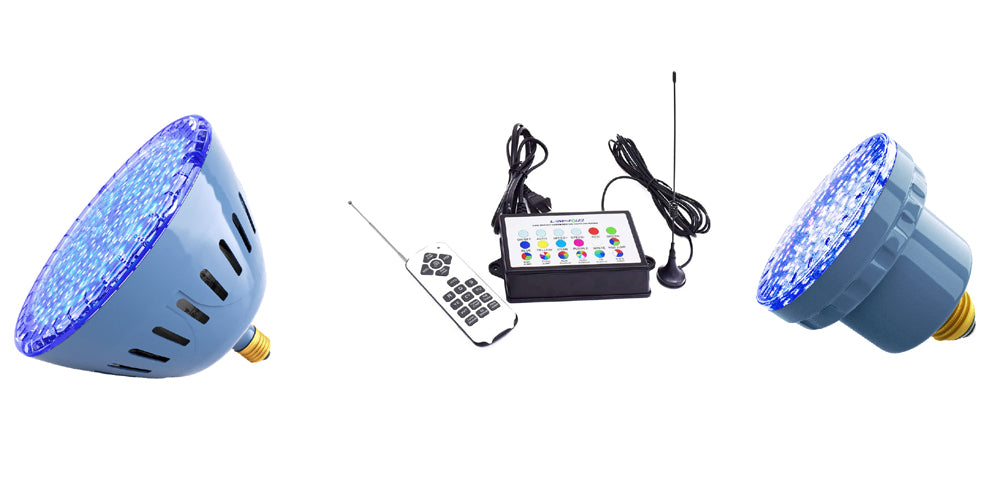 S2-120-35 PLUS
Item Name: S2 -120-35 120Volt Pool bulb with C2-120/R2 Remote Control Kit
Model No: S2-120-35 Plus
Voltage: 120Volt AC
Wattage: 35 Watt
Color: 7 Color Show + 7 Solid Color
Compatible Inground Lighting Fixture:Pentair Amerlite 789 790 791 series, Hayward Astrolite SP058 series.
What you will get
C2-120 Carrier Device 1X
R2 Remote Controller 1X
S2-120-35 Pool Bulb 1X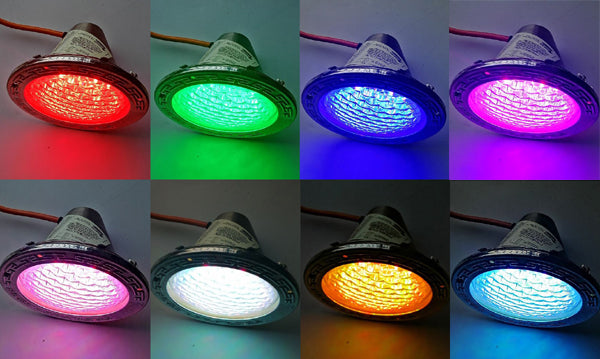 Color and Color Show
The color sequence of the S2-120-35 is
Soild Color: red, green, blue, yellow, white , purple, cyan
Color Show:RGB Rapid,BGR Rapid, 7 Color Rapid,RGB Fade, 7 Color Fade,GB Fade,RWB Rapid
Advantages
C2-120/R2 Control system is a revolution of pool lights control solution. We sloved several control problems for in-ground pool or spa bulbs.
Control range: For a under water lights the remote controller range may be a great big headache. It's big chanllenge for wireless signal transmitted underwater. And C2-120/R2 sloved this problem completely, as we transmitted the underwater signal by wired frequency not radio.
Plug & Play: Plug the control box anywhere of your home power, indoor or outdoor and control the pool lights directly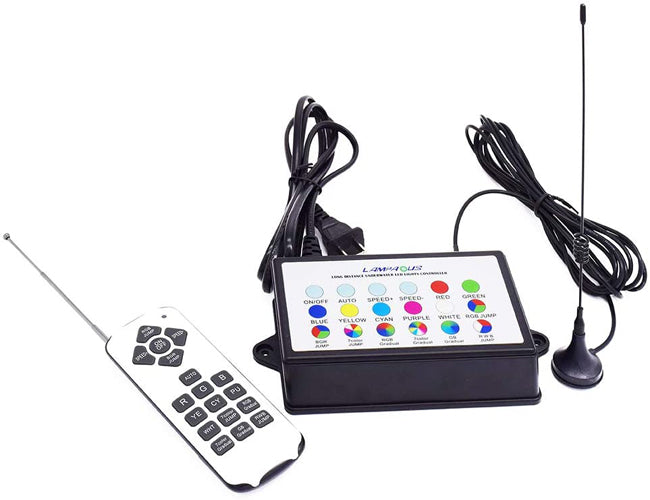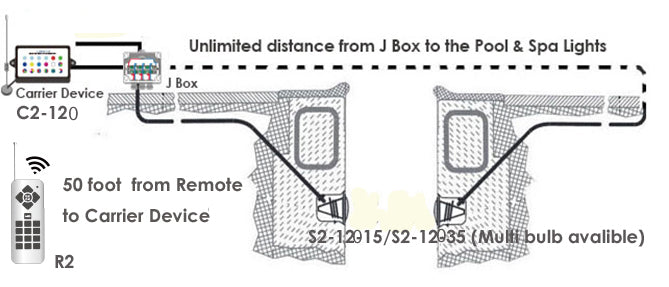 How C2-120/R2 Work with S2-120-35
Wire + Wireless Singal transmission
Inorder to avoid lack of control range for wirless signal transmission underwater , we give up wireless and chose wired solution. The remote control (R2) transmit singal to the Carrier Device (C2-120) ,and the valid range is 30-50ft above water. Then the carrier device convert the wireless signal to different frequency and delivery it to the lights bulbs by cable underwater. The S2 series pool or spa bulbs will response the carrier device immediately and no distance limitation.
Easy Operation
Plug and play, super easy to operate the control system. plug the control kit to home power system, you can control the pool or spa lights in your yard very simple. Chose the solid color or color show, adjust the color changing speed directly, do not need to cycle the color sequency one by one, but chose it direcly by control panel or remote. With this control kit you also can one key to synch multi bulbs and recall the last color setting.